Nope, this is why I have to make my own space.
There's a non-motorized version version of the Big Shot that is a lot cheaper. My wife has one and has used it for several projects.
Happy CakeDay!
(Didn't realize that…I should probably ditch the motorized one…don't think I've ever used it…mainly I just use the Cuttlebug.)
Thanks! I'm virtually stuffing my face with my virtual slice of cake!
Do you have a shop press? you can make your own die and press it.

if you don't have a press, you can make one with auto jacks from harbor freight or the pick-n-pull, like this guy did for pressing apples:

My parents have a friend who built one like this, and they press apples with it every year.
(edit: the one my parents' friend built uses a bottle-jack)
I'm so glad I ask, I had no idea that mid duty die cutters existed. Totally knew about light crafter units and the industrial ones. Good to know that there is something in between.
Thicker cardboard and you could use a jigsaw or saber saw . Or if you needed multiple similar shapes, clamp the cardboard together and use a saber saw. ( that tiny swivel blade is too small for any heavy cardboard). Or even the single handle hack saw -

they only cost a couple dollars.
I like the die/press option. Another option might be a KNK Force. I would have bought one if I hadn't just bought a Curio when I found out about it. I believe it can cut most cardboards.
PS - Anyone want to buy a Curio…
I would use a scroll saw then for interior cuts. You could stack the cardboard 3 high. Drill a start hole. Insert the blade and go to town.
If this is for packaging, I think knife or die cutter are your options (or laser if you have one handy). Edge quality with any kind of saw is unlikely to be great unless you spend a lot of time/care.
I'm pretty sure an industrial plotter-cutter like the Black Cat Cougar would do it, but you'd go through a LOT of blades if you're doing them in bulk. I'd definitely recommend a die if the item is small enough.
My God! Who on earth would buy the Teal version of that for $333 when the functionally exact same White/Grey model is $80!??
Buy a Logan Mat cutter. You can cut even heavy mat board. I believe it comes with a bevel cutter but you can buy a straight cut if it's not included. It has a gauge so you can measure once and then do production cuts. I guarantee this is your best option and then you can always do some nice beveled mats for picture frames.
If you have a table saw you can do arcs and circles on it.
Over kill jig:

An idiotic version:

Diresta doing it with a circular saw:

Find a middle ground to suit your needs. Plenty more on the web and YouTube. Up side is you can stack cut and depending on setup, easy to change. I have cut cardboard on table saws, and have had good results. But then again I do t know application so I don't know how good of an edge finish you need.
Love Stumpynubs he does some good stuff with really bad humor.
I really want to try to make his thickness sander. End grain cutting boards go a lot faster with one .
Gerbils… they'll tear though that cardboard in a matter of minutes and they certainly make complex shapes—that being said, they're not very good about staying in the lines—they really kind of run with their own vision for a particular project.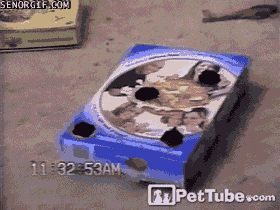 Oh, one other possibility depending on budget and a bunch of other issues: see if there's a cardboard die-cutting house you can farm the job out to. Some of them apparently have cutting machines with repositionable dies so that you can do not-too-complex designs without the full expense of a die, but without the incredible hassle of handwork. (Some friends did that while working on a project that was way too high-volume for laser but not yet popular enough to pay for a series of dies.)
Talk about thinking out of the box! (pun intended) A brilliant solution…now implant electrodes in their brains and control the gnawing…
- Rich
I guess to scale up you would use goats?